Smart City Budapest (SCB) Initiative collects mostly grassroots projects and organisations from Budapest which are connected to the smart city concept. SCB Initiative aims to introduce best practices from businesses, institutions, non-profit organisations and the people of Budapest. With knowledge transfer our goal is to encourage citizens to take actions for a better city. A city is smart when investments in capital and communication infrastructure fuel sustainable economic growth and a high quality of life, in combination with an efficient use of natural resources. But a smart city doesn't exist without smart citizens.
Main milestones of the initiative
2014 | Website + Mind the Game conference
2016-2019 | Shared cities: Creative momentum 
Shared Cities: Creative Momentum is a European cultural platform addressing the urban challenges of contemporary European cities. In an international cooperation of 11 partners from six different countries numerous events, programmes and researches will be implemented between 2016 and 2019. The project is co-funded by the Creative Europe Programme of the European Union, the Hungarian partners are Contemporary Architecture Centre and Mindspace.
The SCCM project gives opportunity to get boost Smart City Budapest initiative and to become Budapest a better city. More details about SCCM >>
What is Smart City?
Smart cities can be identified (and ranked) along six main axes or dimensions. These axes are: a smart economy; smart mobility; a smart environment; smart people; smart living; and, finally, smart governance. These six axes connect with traditional regional and neoclassical theories of urban growth and development. In particular, the axes are based - respectively - on theories of regional competitiveness, transport and ICT economics, natural resources, human and social capital, quality of life, and participation of citizens in the governance of cities.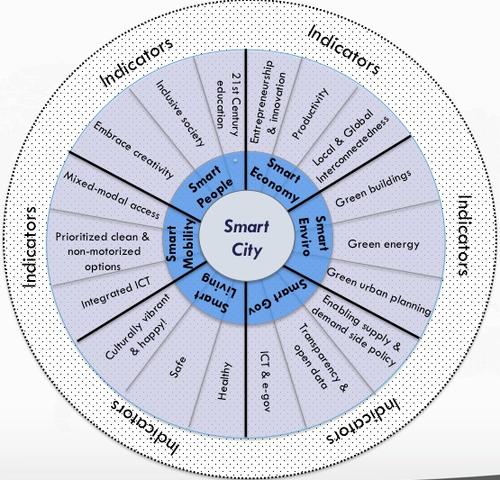 More details about smart city concept: The 3 Generations Of Smart Cities by Boyd Cohen
What is Smart Economy?
A Smart Economy combines the successful elements of the enterprise economy and the innovation or 'ideas' economy while promoting a high-quality environment, improving energy security and promoting social cohesion. The most successful economies of the future will be those that can achieve this combination of attributes. Economy no longer revolves around simply making and moving things. Instead, it depends on generating and transporting ideas. The places that thrive today are those with the highest velocity of ideas, the highest density of talented and creative people, the highest rate of metabolism...The economy is driven by key urban areas." /Richard Florida/
What is Smart Environment?
Urbanization leads to a growing demand for sustainable solutions, stable energy, fresh and potable water, efficient transportation, and resource management. Cities contribute to climate change and are in turn affected by its consequences. To solve these challenges, they need to become more energy-efficient, consumer-focused and technology-driven, they need to become Smart Cities. "Growth is inevitable and desirable, but destruction of community character is not. The question is not whether your part of the world is going to change. The question is how." /Edward T. McMahon/
What is Smart People?
The differentiating element between a digital city and a Smart City is Smart People. People are smart in terms of their skill and educational levels, as well as the quality of social interaction in terms of integration and public life and their ability to open to the "outside" world. "I believe our only hope for the future is to adopt a new conception of human ecology, one in which we start to reconstitute our concept of the richness in human capacity." /Sir Ken Robinson/
What is Smart Governance?
A Smart City requires coordinating initiatives across all departments via a central platform, to enable effective data sharing and joint decision-making. Technology is a key enabler when aligned with a strategic vision for citizens and the right governance systems. By leveraging technology, city leaders can begin to manage disparate city services through smart unified control systems. Smart City toreconcile individual and collective needs, in other words to channel individual aspirations towards the creation of value for society at large through the attainment of economic, social and environmental objectives. "Citizens must be considered as an active part of the community not only as consumers of services, but also as contributors of information, ideas, solutions and innovation. This will be the future: the city as a community," /Pekka Sauri/
What is Smart Mobility?
Smart Mobility integrates transportation and land use modeling, engineering, and planning. As cities grow and expand, so will urban transportation systems and cities are where traffic flows – cars, buses, subways and trams epitomize city life. Cities need to make mobility smarter: more efficient, reliable and green. In this context the main axes of intervention at urban level should not involve only ICT infrastructures and services but also other initiatives depending on the city objectives and specific requirements such as green measures, qualification, extension and differentiation of PT services, urban logistics services, integration of different modalities and services interoperability. "Once more, this paradigm also makes clear that buying technology does not automatically solve problems." /Giorgio Ambrosino/
What is Smart Living?
Smart Cities provide people with a way of life that is more convenient , more comfortable, healthier and safer, while still being conscious of the environment. Here we consider peoples lifestyles in terms of the different activities they engage in during their daily lives: living, work, study, and travel. Smart stands for sustainable, meaningful, artful, responsible and thankful. "I'm neither an optimist nor a pessimist. I am a dyed-in-the-wool possibilist! By this, I mean with an eco-mind, we see that everything's connected and change is the only constant." / Frances Moore Lappé/
---
---
Managing organisation and contact
Mindspace Nonprofit Ltd. - Budapest, Hungary
Address: Margit krt. 44. Budapest H-1027
Contact person: Adam Kobrizsa, Szilvia Zsargo
Email: kobrizsa.adam[at]mindspace.hu, zsargo.szilvia[at]mindspace.hu